What we ate in Frankfurt:
Alexis: We had lunch at a Turkish spot on Leipzigerstrasse. This is Gruner Salat, which had red cabbage, carrots, onions and green olives. Super sour dressing, which I love.
Alexis: This was Alex's meal - Adana Kebab with all the fixins. Meat was really good - flavorful and soft.
Alex: I was extremely suprised by this spot. I was a little pressed for time becuase it was my lunch hour and thought, screw it, lets just try this place. The food was awesome! The meat was indeed very tender, kinda reminded me of fajitas (especially whit lime). The grilled veggies and rice made the meal complete.
Alexis: I stuck with the veggies - roasted zucchini and eggplant, red peppers and yogurt sauce.
Alexis: I went to Heidelberg while Alex was at work to visit an old friend. We worked together at a restaurant and he moved to Mannheim, an hour south of Frankfurt. We ate lunch with his German class at the University center - mache salad, schnitzel, potato dumplings and some sort of dumplings stuffed with liverwurst. It was like a giant mess hall and you served yourself and then paid by the kilo. Schnitzel was just okay but everything else was good. I was lucky to have all these different eating experiences there. I even got to try Mrs. K's white asparagus dish with the cheese and ham - apparently it is a very traditional dish. I saw photos of it in ads for cookware at grocery stores.
Alexis: So these are a little out of order. On Friday we headed to the Fressgasse, which is a nickname for an area at Hauptwache that is full of cafes and restaurants. Had the weather been nicer, we would've sat outside a very long time. This is a fresh fried mini donut and smoked fish sandwich. The donut was light and crisp - I think I could've eaten a whole sack.
Alexis: While windowshopping for a place to get lunch from we passed this sausage joint. I wish I'd had time to sample all the different kinds.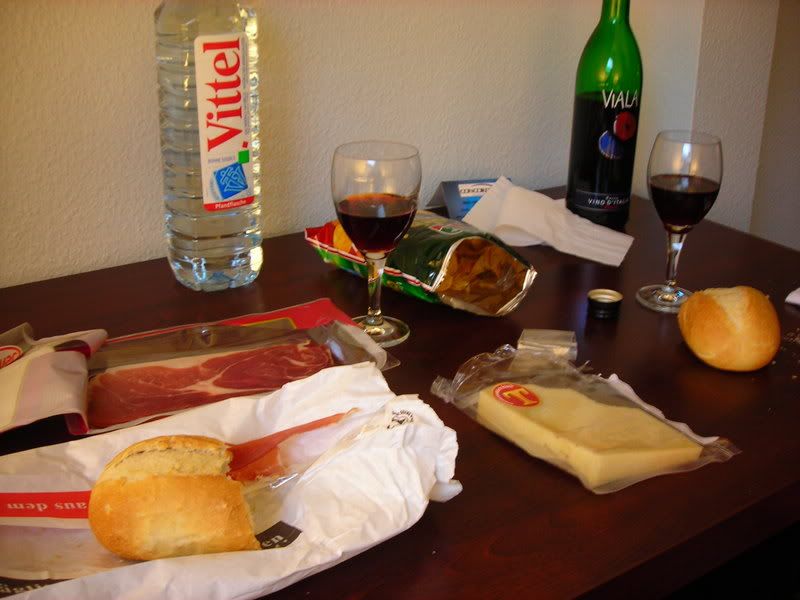 Alexis: Picnic dinner in our hotel room - there was a grocery across the street. We got some brotchen (super good, fresh bread rolls), jamon serrano and parmesan cheese. I tried some red bell pepper chips. There was no bottle opener to be found at the store, which severely limited our wine choices but we ended up with an Italian wine that was not too bad. Jamon serrano has topped prosciutto as my favorite cured/smoked meat.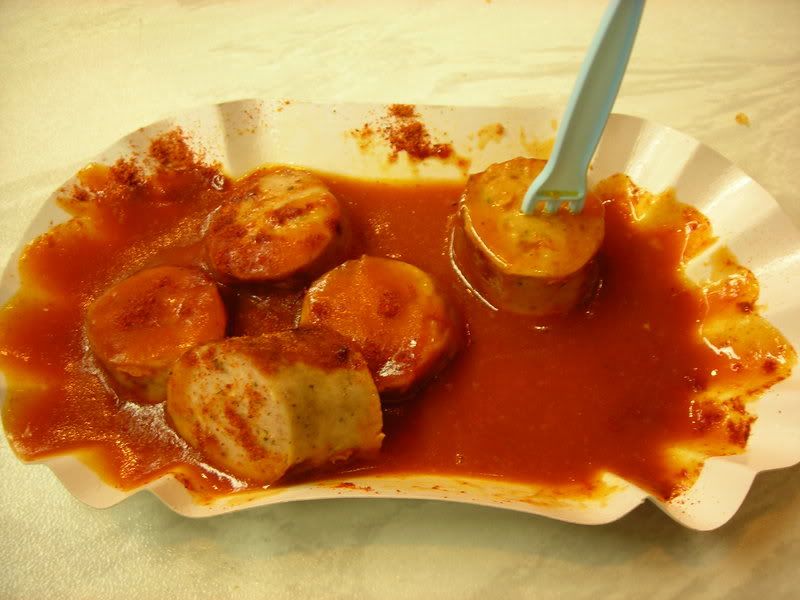 Alex: Curry Wurst... for a quick wurst fix.
Alexis: Lunch at the train station at Hauptbanhof. Bratwurst and German potatoes - so simple. But so good. Wurst was better at Alex's other spot tho.
Alexis: Alex took a picture of this place's menu and sent it to me before I arrived. They had all these crazy creations like eis spaghetti, tiramisu, lasagna, spaghetti with meatballs - all made from ice cream and fruit sauce and liqueur. This was affogatto, which traditionally is vanilla gelato "drowned" in espresso. They formed the ice cream in a mold, poured liqueur into it, then topped it with cream and espresso. As we ate into the ice cream, the liqueur slowly spilled out and mixed with the espresso.
Alex: Ice Cream ain't no joke in these parts.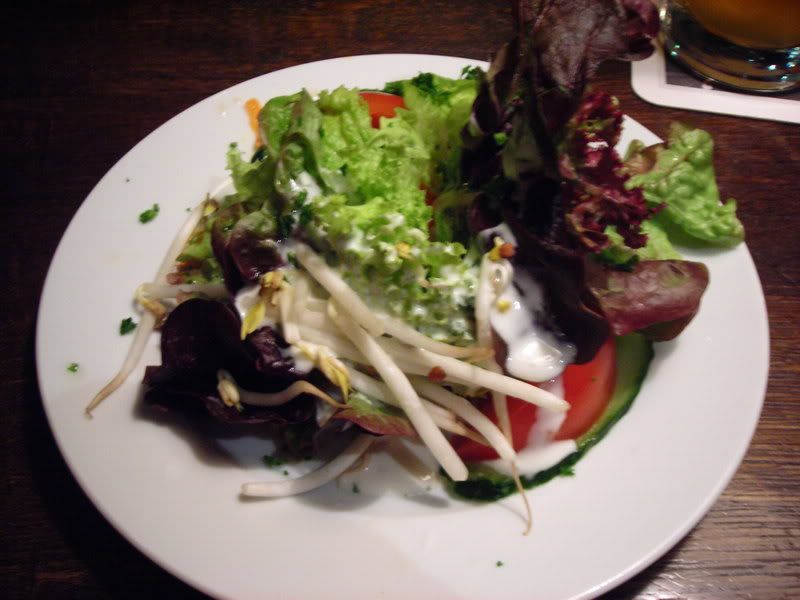 Alexis: My last night we ate at Liebe & Seele. Seemed like a hip place, with long wooden benches to sit at. This salad came with our meals. It was an interesting mix - bean sprouts and lettuce atop shredded radish and tomatoes. I liked it a lot. Not sure what the dressing was but it tasted like a lighter version of ranch.
Alexis: Wasn't sure what I ordered but I knew it was some kind of meat with potatoes and mushrooms. The gravy was awesome, especially when soaked up in the fries. I wanted to eat more than I did. Shameful!
Alex: Oh no, it was chicken!!! Watch out for the bird flu.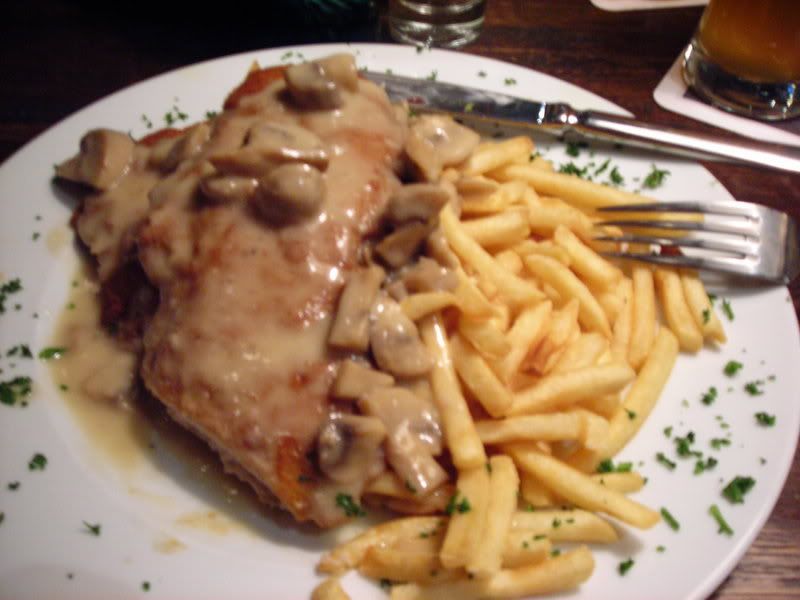 Alexis: This is Alex's schnitzel. He'll tell you all about it.
Alex: The Schnitzel was eh. I've definitely had better, but the gravy and fries was das scheiße.
I didn't think I'd enjoy Germany as much as I did. The deli sections at the groceries were pretty extensive, especially in cured meats. And the bread, like Paris, was so good and fresh. I don't even want to try eating bread here yet. One major regret - not trying more beer!